Joy Sheppard
8th Oct 2013

We had to rehouse my father at short notice after a sudden illness. TJ Clearance and Removals were very accommodating and worked around our tight schedule - being totally flexible. The crew worked fast and professionally and the job was completed in only a few hours. I would not hesitate to recommend Tony and his team and would use them again in the future . They definitely took a lot of the worry off our shoulders !!

Mr. I. Wilson.
10th August 2013 Sent from Ian's iPad

We recently had a big clear out and called if the help of TJ Clearance. They provided a friendly, professional and fast service. We will definitely be calling them again in the future!.
Kori
Tue 14/05/2013

Thoroughly pleased with the efficiency from the initial quote through to completion and punctuality of my Uncles house clearance, considering the amount of work involved in the short period of time. It transformed the property ready for marketing.
Once again many thanks.
Mr .I. Lewis
27/04/2013

A big thank you to Tony and his wonderful team for their efficient and friendly service when clearing my mother's property. They worked so hard and even kept smiling when the loft turned out to be a much bigger job than expected. They provided an excellent service and I have no hesitation in giving a recommendation.
L. Invest 07/04/2013

"I contacted this company to clear a huge load of rubbish from my garage that had gotten wet in a flood. They arrived promptly and got to work straight away. The rubbish was loaded into the van in no time. They were polite, friendly and very efficient; they even swept the floor and rearranged the rest of my garage belongings so I didn't have to. I would strongly recommend this company and will use them again without hesitation! "

Christine Elgumati, Mon 18/03/2013

"My mother has recently had to be moved into a nursing home and to help pay the fees we have had to sell her house. Most of her possessions were quite old and had no residual value and so we just removed the personal items that we wanted to keep. As the completion date was getting quite close we decided to use a house clearance company to do the rest and I had found 3 or 4 companies that I was going to call.

I started off by calling T J Clearance and Removals and because I was so impressed with the phone conversations I had with both Tony and his wife, I decided there was no need to call anybody else. Tony was very flexible, being able to work us into his very busy schedule, and the way they dealt with the whole process was professional, courteous, friendly and with a great deal of sensitivity bearing in the mind the circumstances.

In addition after clearing the house they also gave it a sorely needed clean which they did not charge any extra for. They also delivered a specially made armchair to my mother, in her nursing home, again at no additional cost.

I have no hesitation in recommending T J Clearance and Removals to anybody who needs house clearance or removal services and if you are looking for somebody who goes the extra mile, and then a bit more, then you need look no further than Tony and his family."

T.Squire, 27/02/13

"Dear Tony, A brief note to thank you and your son for making yesterday's house clearance such an efficient and trouble-free experience. Having suffered a family bereavement so recently, we were anxious about seeing the house cleared, but you conducted the whole business with courtesy, sensitivity and professionalism. And all at a very reasonable price. We would definitely recommend TJ Clearance and Removals to anyone else needing a similar service."

With all best wishes,

Barry and Anne Thomas, Sat 23/02/2013

"To whom it may concern. Having been left the job of clearing my Mothers 5 bedroom house, I was at a bit of a loss of where to start. I found the contact details of TJ Clearance on the internet and phoned Tony who met me at the property to give me a quote. Having had a good look around, we agreed on a price and a convenient date. As you can imagine, the amount of "clutter" gathered over 45 years was substantial, but Tony and his team set about the job in a highly professional way, clearing not only the house, but shed, garage and loft. I found them to be professional, courteous and efficient and will definitely recommend their services to anyone that asks."

Regards

Chris Summers

"Thank you for your team's hard work on Monday and Tuesday. You have done a very thorough job on what was a very big undertaking - clearing a large 5 bed house that our elderly parents had been in for many years, and delivering what we wanted to keep to 2 different locations. You were very reliable and punctual and we really appreciated the fact that we could trust you to get on with job as we live at a distance. It was obvious that you have a lot of experience - thank you for all your advice and suggestions. Thank you also for all the 'extras' such as moving my daughters sofa and chair to my house, and carrying all my furniture upstairs for me here - that wasn't part of the deal, and it really helped me. Nothing was too much trouble. Our parents house has been left just as we wanted it for the new owners, and you hoovered up as well. You were recommended to us by some friends, and I would not hesitate to do the same."

Thanks again

Sue Harding,

Reading, Thu 31/01/2013

"Many thanks for a most professional and therefore, re-assuring collection service. We only called you this morning and asked for an ASAP job and you and your team arrived the same day, despite the snow storm! Old fashioned courtious service that you dont expect these days. We will have no hesitation in recommending your services to our friends and your card will be kept in a safe place!"
Bob Field
Wed 23/01/2013

"I found TJ clearance by chance on the Internet. Their web site and testimonials convinced me to request an estimate. Having met Tony I was impressed by his manner and approach to this work. Having agreed a price which included a discount I knew that this is the right company to help remove my late mum and dads possessions from their bungalow. Tony and his support team went about their work efficiently and professionally. I was surprised when all was completed within 2 hours and to my requirements. I would not hesitate to recommend this company to future clients"
John Smith
On 10 Aug 2012, at 17:56,

"Thank you Tony, I must say I was very impressed with your team today and I will recommend your company to the group for future work."
Thanks again
Shelley

"Tony I just wanted to drop you a note to say thank you for the job that you did for me last Friday. I was slightly daunted about the prospect of moving all of my furniture into my new home - and at the same time putting other goods into storage, and disposing of the rest of my junk (which was considerable!). However, you made this a pain-free process, with everything handled professionally, quickly and without fuss, and definitely surpassed my expectations. I really appreciated your experience and commitment to doing a good job. I wouldn't hesitate in contacting your company again for a similar job, or recommending you to a friend."
Many thanks
Malcolm Kemp
Thu 21/06/2012 11:34

"Thanks for clearing the flat so efficiently and without any fuss and to the timetable given. Thanks also for hoovering through. Good job well done."
Diana and Doug Foster
13.6.12

"I used TJ Clearance and Removals to clear the whole of a 2 bedroomed house which had been lived in for 60 years. My elderly mother had a huge amount of possessions which once we had taken a few personal items were expertly and quickly cleared by the team from TJ's. From the first contact by phone with this company they arrived to estimate and settle on a date very quickly with a good deal of guidance on how to go about the task. On the day they arrived at the time agreed and we left them to it. Returning at the time they had estimated we found everything removed from the house and sheds also garden waste which we hadn't asked them to take and would have had to sort ourselves had be taken away and nothing damaged or left in an unacceptable state. A really good and reasonably priced job had been done. The team were all very pleasant and professional and I would highly recommend the Firm."
Linda Isaacs

11/06/2012

"Dear Tony
I just want to thank you, your wife and the rest of your team for the superb job you did clearing and cleaning my late brother's bungalow this week. It was not an easy job as my brother was a 91 year old man, living on his own, who had been unable to clean or maintain the property for the last few years and who hoarded mountains of junk!
When we visited today we were amazed that you had managed to clear everything from the property, (including the contents of the garden shed!) and your wife was still very hard at work making a splendid job of cleaning everything from floor to ceiling. The property looked totally different so much larger and lighter with the filthy carpets and junk removed - and it all smelled so fresh and clean! The estate agent, who had seen the bungalow in its previous state was amazed at the difference and commented on what a good job you had done.
So thank you all , once again, for doing such a splendid job, and for making everything so easy for us, living as we do, quite a distance away. I would happily recommend you to anyone facing the difficult task of clearing a relative's house so please feel free to use this testimonial in your advertising material.
Yours, most thankfully,"
Marion and Gerald Higgs


"Many thanks Tony for the swift and professional job
Very much appreciated and I will recommend you to friends and colleagues if they need a similar service"
Simon

29/05/2012

"Many thanks Tony and Julie - good job"
Graham

16/05/2012

"Following a family bereavement - I contacted TJ Clearance to help with a house clearance. I found the quote reasonable and I appreciated the sensitive, efficient and courteous approach of TJ Clearance on the day of the clearance.
They then cleaned the house in preparation for its sales and did an amazing job, it is probably the cleanest the house has ever been! TJ clearance also proved to be reliable and communication with me throughout the process was excellent. I can highly recommend TJ Clearance and would certainly use their services in the future"
Julia Freeman

24/04/2012

"Thanks and appreciation are due to Tony and his team for making the best of a difficult and dirty clearance job which turned out to be less straightforward than expected. I found them to be helpful, diligent and trustworthy: I recommend them to other potential customers."
Bryan. (Harrow, Middx.)


"It was good to meet with you and your team yesterday, and I would like to thank you for the thoughtful and efficient way you dealt with the clearance. Many thanks, and kind regards."
M. Branning


"Removals from bagendon. Thank you for your most excellent service yesterday. Prompt efficient and polite, I am happy to recommend you to anyone enquiring."
Judy Hart

21/04/2012

"I moved recently with the help of TJ Clearance and Removals. Moving is a rather traumatic and testing experience and on reflection, it was a good decision to go with a locally based company. When I had underestimated the amount of boxes and bubble wrap that I required, Tony was able to supply me with the extra that I needed the following evening. Also, before I could begin packing, there were a number of heavier items that I needed to clear. Again, the fact that I was dealing with a locally based company meant that this could be arranged very quickly and easily.I imagine that many people believe that their move is uniquely complicated; mine certainly had its awkward aspects. At the point when I first contacted Tony, I did not know when I would move or where I was moving to and consequently I was probably a rather stressed client. However, Tony was great and I was assured that my move could be accommodated somehow. Just having that assurance was a great weight off my shoulders.
When the pieces of the jigsaw finally fell in to place, on the day of the move, all proceeded smoothly. The vans and movers arrived promptly and the house was quickly emptied. The house fixtures that I should have, but was unable to remove myself, were kindly dealt with by TJ Clearance and Removals. At the other end, large furniture items were unloaded and placed in various rooms and boxes were placed conveniently. In one particular room, I had decided that the initial layout of the heavy furniture was not the best solution. Tony and his team were happy to then rearrange the room for me. The team did not leave until I had confirmed that I was happy with the arrangement of all of the furniture.
In summary, I would have no hesitation whatsoever in recommending TJ Clearance and Removals. Leading up to my move, they were easily contactable and replies to telephone calls and queries were prompt and thorough. On the day of my move, the team were reliable, polite and respectful of my possessions."
Mrs Catherine Tye

Feb 2012

"Very efficient and professional service from Tony and his team. The club is looking so much better since the clearance and I would happily use TJ Clearance and Removals again and recommend them to others"
Lucy Walton

Operations Manager

"Many thanks for clearing my Mum's old house so efficiently. The cleaning was amazing everything spotless- has not been so clean in 50 years!
Thanks again. Best wishes"

David Browne

"I wanted to leave some feedback on your removals and cleaning services
We have used TJ Clearance to move home twice now and would definitely use them again. They offer a very efficient and fair priced service, moving everything quickly and safely!
We would highly recommend TJ to anyone needing removals!!
When moving out of a rental property, we used TJ Cleaning services. They did a fantastic job on the house and the company doing the check out for the letting agents was extremely complimentary on the cleanliness of the house. Thank you so much, you really took the pressure off and it was nice to spend a day sorting out the house we'd just moved to, rather than cleaning the one we'd just moved out of.
Mr & Mrs Crosby
Chinnor
p.s. We are giving your details to the letting agent as they really were impressed with the cleanliness of the house"

"Thanks very much for everything you have done and for giving me a good quote for the job. Much appreciated. I will send a check to you today.
Many thanks"
Bill

"Many thanks for today, and a million thanks for the three piece to Graham, he will be so made up - i have entered you on to our contact list, this will encable all colleagues within bucks to access you - many thanks again to you and the boys who moved the cooker.
kind regards"
C. Mitchelhill
Floating Support Worker

"I would like to thank you for doing a good job on Saturday moving my daughter's things to Milton Keynes. I will defiantly recommend your Company to my friends.
Thank you."
Sue Williams

"Thank you Tony for all your help yesterday it was much appreciated. I will pass your details onto our building surveyor for any future closures we have.
Best regards"
Margaret Knox
Admin Officer


"I would just like to say a big thank you to Tony and his wife for the fantastic job they did of moving us to our new home. It was all done with such efficiency; we would never have done it so quickly on our own.
They also did a brilliant cleaning job, which was a service I didn't expect and it saved me so much time, thank you both so much, I would recommend you to anyone.
Thanks again."
Daphne White

"Many thanks for your work in clearing my mother's house today. On both visits to the house you have arrived on time and been very helpful and courteous. The work was undertaken quickly, efficiently and with sensitivity. I am very grateful and would have no hesitation in recommending your company to others. Best wishes"
Jenni Mogridge


Great quote at short notice. Flexible when we didn't know if we would complete on the day or not (thankfully we did!!). Speedy but respectful to our belongings. Would recommend to anyone.
Richard and Angela
Aylesbury

One of our customers left us a really tasty thank you!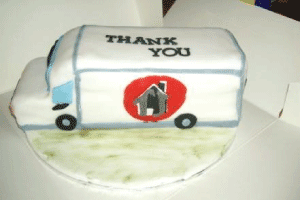 We needed to get things sorted at very short notice when clearing out a B&B and Tony and his team were first rate – answering the phone within three rings and coming round within the hour. I would definitely recommend them.
Mrs H Howard
Quainton.

A massive thank you to all at TJclearance. At times I thought the house was turning into the tardis as the clutter & junk seemed to be never ending but TJclearance managed to get the house & garden done in one day, they even took extra furniture away after I was let down by someone else. It was a great weight off of my mind & I would happily recommend them to anyone.
Thank you
Kim