For your free quote with no obligation call us today on 01296 297001 or call Tony direct on 07921 183 217
Testimonials

Storage unit cleared 10/10
"This is the second time I've used this company. Again they were efficient and friendly." @ Verified By Email – Customer in High Wycombe ( 1 ) 29 January 2018

Clear two beds ad a filing cabinet and take to a proper waste site. 10/10
"Prompt service, helpful men, no mess, arrived on time. Very efficient. Immensely strong, useful advice given me also. I would recommend this firm." @ Verified By Email – Repeat Customer in Aylesbury ( 2 ) 27 January 2018

Rubbish clearance 10/10
"Very good service. Recommended." Verified By Telephone – Repeat Customer in Aylesbury ( 2 ) 24 January 2018

Rubbish clearance 10/10
"Very good service. Recommended." @ Verified By Email – Repeat Customer in Aylesbury ( 2 ) 24 January 2018

Loft clearance. 10/10
"Excellent helpful, friendly, fast." @ Verified By Email – Customer in Thame ( 1 ) 23 January 2018 Quick, efficient, polite, amazing service from start to finish. Would never use any other company when moving again. Highly recommended.
Lee Young 27 January 2018

Just used TJs to remove a sofa from my old house, they did a great job bearing in mind I only asked yesterday! Thank you.
Rebecca-Jade Skinner 27 January 2018

House clearance. 10/10
"They were waiting at the property when I arrived and got straight on with the job, they had also contacted a gas engineer on my request to disconnect cooker, I found them very polite and helpful and wouldn't hesitate to use them again if ever needed." @ Verified By Email– Customer in Aylesbury ( 1 ) 10 January 2018

House clearance and garage clearance. 10/10
"Wonderful service, quick, clean, prompt. Would definitely use again." @ Verified By Email– Customer in Amersham ( 1 ) 13 December 2017

Removal of piano. 10/10
"Fast, efficient and friendly." Verified By Telephone– Customer in Buckingham ( 1 ) 4 December 2017

House clearance. 10/10
"Tony and his crew gave a fantastic, efficient service. He said they would provide a stress free service and certainly did." Verified By Telephone– Customer in Aylesbury ( 1 ) 4 December 2017

Removal of various old bits of furniture to the tip. 10/10
"Amazing service, arrived 5 minute after I booked it. 3 men lifted everything into van for the clearance and moved a lot within minutes. Also friendly." @ Verified By Email– Customer in Aylesbury ( 1 ) 29 November 2017

Complete clearance of my late father's house, garage, garden and shed 10/10
"Completely professional, courteous and considerate. Did a brilliant job. Much appreciated. And fast!" @ Verified By Email– Customer in Chesham ( 1 ) 17 November 2017

Completely clearing room in residential home. 10/10
"Speedy, courteous, thorough job, very professionally done." – Customer in Weston-super-Mare ( 1 ) 8 November 2017

Partial house clearance. 10/10
"Excellent service. Very polite and willing to help. Good time keeping and worked hard." – Customer in Aylesbury ( 1 ) 3 November 2017

Removal and disposal of three piece suite. 10/10
"Very efficient, friendly service. Work completed carefully and speedily." @ Verified By Email– Customer in Luton ( 1 ) 25 October 2017

Removals of a 3-bed in Aylesbury to a 4-bed in Kent 10/10
"Excellent service. Arrived on time, worked non-stop with a smile. All friendly, great with our young children. So impressed and glad we chose them." @ Verified By Email– Customer in Ashford ( 1 ) 25 October 2017

Rubbish collection. 10/10
"Prompt, courteous and friendly." Verified By Telephone– Customer in Aylesbury ( 1 ) 14 September 2017

Office clearance. 10/10
"A very friendly and thorough service. Extremely pleased I will definitely use them again." Verified By Telephone– Customer in Chesham ( 1 ) 6 September 2017

Removal of furniture. 10/10
"Fantastic. No complains. Very helpful." @ Verified By Email– Customer in Aylesbury ( 1 ) 4 September 2017

House move. 10/10
"Very professional and efficient service. Very friendly." – Customer in Aylesbury ( 1 ) 23 August 2017

Due to my landlord's intention to redevelop my building I had to make plans to close & vacate the premises by 2nd October. I contacted Tony at T.J. Clearance after I first received this bad news to see if it was possible for his business to do the clearance work involved. Tony very quickly came to the business to assess the work & 2 quotes were quickly e mailed me. (These were required as I needed to do the clearance in two stages for business trading reasons.) Following my acceptance of the 2 quotes the first stage was carried out in July. Tony & his team arrived exactly at the agreed time, worked at a tremendous pace leaving the cleared area clean & tidy. The final phase, the most major clearance (as we had closed 2 days previously on 30/9) again went without a hitch & once again Tony & his team did an excellent professional job from start to finish in a very short time. I found Tony a very likeable & professional person backed by a great team. I can't thank him enough for a great job done & would & will recommend his business to anyone who requires their premises or houses clearing in the future. Thanks again Tony & team.
Regards Paul & Elaine Richards Hairset
05/10/17

It's a tricky business finding a legitimate house clearance company; as a consumer, you have to be very careful finding a reliable licensed company. In my case, I needed to clear my late parents' house. TJ Clearance and Removals happened to be the first company I called. The first person I spoke to was Julie in the office who couldn't have been more helpful. Tony then came to see me at 9am on a Saturday morning to quote. In the meantime, I pursued several other clearance companies to get an idea of the market. It quickly became apparent that TJ are head-and-shoulders above any competition I could find in Bucks. On the agreed day, Tony turned up, on time, was incredibly respectful of the fact he was emptying what had been a loving and wonderful memory-filled family home of 50 years but got properly stuck-in. It was quoted as a two day job but Tony and his two lads - an all-family business, as it transpired, including Julie - got through the lot in seven hours! That was house, including large attic, garage and garden. Unbelievable work rate. Tony couldn't have been more pleasant to deal with throughout. Polite, organised, went the "extra mile" on a couple of things that cropped up on the day (at no extra cost), cleaned up, is highly professional and seems a smashing guy who was absolutely true to his word. When I called him in the lead-up, he always took the call or came back as soon as he could and his after-service was prompt. If you need a house cleared in Bucks or, presumably, any other sort of removals, I would, without hesitation, say go to TJ.
Neil Martin
28/04/17

Tony suggested that he came in the daylight to give me a quote for clearing my mother's house and as I work full time he agreed to do this at a weekend for me. On the day despite storm force winds he and his team did a great job of clearing the house of some larger items of furniture. They also battled through clearing a garage and shed crammed full of things which hadn't been used or even moved in a very long time and left everything clean and tidy afterwards. Thanks for a job well done!
Best regards,
Su Jones
20/03/17

Thank you very much for your highly professional service last week in clearing out items from my storage unit. Very handy tips for minor repairs and furniture protection were also greatly appreciated! Very personable and interactive. Definitely would recommend your service to others seeking clearance assistance.
All the best,
James
12/03/17

Recently I decided to upgrade some of the furniture in my house. This meant clearing out the old items that I no longer wanted. Based on the testimonials that I read on the Internet, I decided to give the job to TJ Clearance. I am very glad that I made that choice. Their team, under firm leadership, made a very speedy and efficient job of the clearance. Finally, Tony made a surprising and welcome financial gesture. I had miscalculated the number of items to be cleared. The initial quote was based on that low number. As it turned out, the actual number of items cleared was about double that low number. But Tony kindly based the final cost on the original low number. A significant discount, generously given. I am most grateful for that and for the good work done in the actual clearance.
Terence Allott
28th Feb 2017

I just wanted to thank you from the bottom of my heart for your patience and forbearance on the day you came to clear my Mum's house. To say it was emotionally fraught would be an understatement. You and your team were so kind and sensitive to our needs. I can't believe you actually managed to clear it all out, there was so much stuff. The 'basic clean' went above what I expected and I really appreciated the effort. Thank you so much to you and your great team for a job well done. I wish you all the very best for the future. Very best wishes,
Jo Guess
26 February 2016

Our 96 year old Mother has had to progress to a Nursing Home quite unexpectedly. We have, therefore, to sell the house quickly to be able to pay the care home fees. On Monday 6th February 2017 Tony met my sister at the house, viewed the content, explained his services including a deep clean , if required, or a vacuum and dust through and gave us the price to carry out our selection of services which included complete clearance of the house and garage. The date for clearance was set for Wednesday, 8th February 2017. We arrived at the allotted time of 9am Tony was there, with two vans, waiting for us and ready to go. We let him and his team into the house, we then left them to clear while we went for coffee. Tony called us on our mobile to tell us that he would be finished in 20 minutes. We returned to the property just as Tony was putting the last garage rubbish on the lorry. Tony insisted that we check everything was to our satisfaction before accepting payment. The house has been cleared of every scrap of paper and rubbish, the garage was completely cleared. There was no "rubbing" on paintwork on the very narrow and steep staircase or any other area. All kitchen drawers and cupboards had been emptied completely. Payment was made by card with the invoice being sent by e-mail within an hour! My sister and I would have no hesitation in recommending Tony for this type of work. Tony was courteous and very aware of the emotional stress we were under. He and his team were punctual, very efficient and careful in execution of their duties.
Pat Farmer
10.02.2017

My wife called Tony on Sunday morning as we were let down by a charity collection on the Saturday. Tony rearranged a couple of his less urgent appointments and collected our house clearance items by 9.30 on Monday. We would highly recommend this very professional company.
Kevin Marston
23rd January 2017

I had a 3 bedroomed house needing to be totally cleared out after a family bereavement. The team turned up on time and cleared everything within hours. The house was full of stuff that had been built up over 20 years and there was a lot of it. We believe they went above and beyond what was expected and I wouldn't hesitate to recommend them to anyone. 5 stars.
Mrs Tooze
19th January 2016

We have just used Tony and his colleagues to clear our parents' house – a fairly mammoth task which they undertook with efficiency, kindness and thoroughness. They turned up on time, and got on with clearing immediately. All was quickly done and dusted and we were really pleased with their work. Can thoroughly recommend.
Y McQueen
6th December 2016

Tony and his team provided an efficient and prompt service and I would be happy to recommend them to anyone. I obtained a number of quotes for the clearance of my mother's house and it was soon apparent that Tony was the most knowledgeable and trustworthy of the contractors I dealt with. I was able to fix a date to have the house cleared within a week of our meeting and Tony delivered everything he promised in terms of quality of service, reliability and value for money.
Andrew Walker
29/11/16

Thank you so much for stepping in at such short notice to move me. You and your team worked so quickly and efficiently on moving day and managed to turn a very stressful situation into quite a good experience!!! My move was all done and dusted by 2 .00 pm and your advice and the way you sorted everything out was amazing. I wish you all the best Kind regards
Jackie Nunn
24th November 2016

I chose TJ Clearance rather than a local removals company because I also needed to dispose of some old furniture and quite a bit of rubbish from the cellar when moving from a house to a flat. I then got slightly worried that I might have done the wrong thing in selecting a company that specialises in clearance rather than removals. That was not the case - Tony and his team moved all my things quickly and efficiently and took proper care with both them and the carpets and paintwork in the flat. The whole process went completely smoothly and I would be more than happy to use them again.
Pam Gardiner
23rd October 2016

I would like to say a big thank you to Tony and the team for an excellent and very professional job , and in fact you went above and beyond to ensure you completed the clearance even when faced with unforeseen problems it was really appreciated Thank you again
Paul Pusey
17th Oct 2016

We used TJ clearance at very short notice they came to our house the next day to size up the job, they were able to accommodate all our needs which included clearance and a house move on the day before Easter. The team were very friendly and professional. I'd definitely recommend.
Charlotte Sewsarran
9th Oct 2016

Tony and his team provided a professional service assisting with with the downsizing of my father's 3 bedroom home to a 1 bedroom flat and the associated memories of over 40 years. A specific thank you for the perseverance with regards to the removal of the stairlift after we had been let down by the company who originally provided it. Everything was handled with efficiency and a smile. Regards
Rose and Sid , Aylesbury
30 September 2016

Thank you so much for helping us to clear our house. We appreciated how helpful you were from our very first initial contact. You gave us a quote which was exactly what we paid. We were pleased to be able to pay by card and today, two days later, to receive your prompt receipt of payment. We appreciated the phone call to say you were on your way. We appreciated your very efficient team. We thank you for making a job of emptying a house, a job that concerned us, so easy. We do recommend you.
Christine Mansfield
5 August 2016

I have been so impressed with the house clearance service given by Tony and his team and at such short notice. From an initial phone call yesterday afternoon, the keys were collected from the estate agents at 8.30 this morning and a two bedroom furnished apartment was cleared and cleaned (the clean was above and beyond!) in virtually one hour. Photographs were sent to me to show final results. I wouldn't hesitate to recommend TJ House Clearance and Removals, such a friendly, thoroughly efficient and professional service.
Liz Crompton
15 June 2016

Having moved a number of times over the years I have probably encountered the best and the worst when it comes to removal companies. With another move on the horizon I called Tony who arranged to come round and provide an estimate. As soon as I met him it became apparent that he knew exactly what he was doing and left me feeling confident enough to book him there and then. On the day of the move he arrived with his team and they proceeded to work at an incredible pace, total courtesy from the whole team throughout and care and attention given to all the items they handled. Nothing was too much trouble. I rate Tony and his team as one of the best I have dealt with and will have no hesitation in using him again when the next move comes my way. A top class service from a top class team. If you thought customer service and satisfaction no longer existed, give Tony a call and you'll be dealing with a team that will provide you a service second to none.
John Dennington
04/05/16

TJ Clearance and Removals are absolutely brilliant. Prompt, courteous and speedy clearance. You couldn't find anyone better to clear a whole house or just move the odd item or two. I cannot recommend them highly enough.
Teresa
04/04/16

Many thanks for a very efficient service. You and your team worked extremely hard, carrying out the work to time and to the agreed cost. I would recommend your company to anyone who needs a house cleared without any fuss. Regards
Paul Howfield
23/03/16

We live in North Yorkshire, but had to clear my in-laws bungalow in Princes Risborough, Bucks and following searches on-line, selected TJ Clearance & Removals having read the impressive reviews on their web-site. I was not disappointed and they far exceeded my expectations, clearing a 2 bedroom bungalow, attic, garage, shed and garden rubbish, in a professionally, systematically, diligently, thoroughly and polite manner with an excellent efficient team. It didn't stop there, we had a gas leak, but couldn't arrange a call out until two days later, Tony called his contact and a gas fitter was on-site two hours later and the problem was resolved. All I can add in conclusion is thank you Tony and your team for an excellent job well done, you have my full recommendations.
John Orr
13/03/16

Couldn't be more pleased. Excellent team. Thorough hard working friendly and able to explain everything. They cleared everything including a greenhouse stacked with pots and other rubbish, and ll the pots and other bits and pieces from the garden. All very efficiently done and at a terriific pace. Well done and many thanks.
KeithM-30
08/03/16

"Faced with the daunting and emotional task of moving and disposing of the effects of more than six decades of accrued possessions, reflecting the family's life and memories through that time, our concerns were removed once we had placed the task in the hands of TJ Clearance. Friendly and professional contact was matched by efficient service, overcoming some logistical challenges imposed by the location. The cleaning up was immaculate. We were impressed and very relieved. Thank you to Tony and all your team. You earned your crust!"
Peter & Vicky Chandler.
25/02/16

Thank you Tony for your great work last week. Sorting out a home after a loved one's death is stressful enough and you made the process much easier, by sorting out a quote and a date for clearance at the time of my call. Thank you too for fixing the back gate and helping us ensure the place was secure while empty. I've already recommended you to a colleague in the office who needs a reliable house clearance service. Best wishes
P Slater
22/02/16

Tony and his team were incredibly helpful and very efficient. They were worked very quickly and I was amazed at the speed in which they worked and removed my excess furniture and junk. I have mobility problems and Tony and his team were very kind and sympathetic. Tony even went up a step ladder and replaced a problematic lampshade! I would highly recommend Tony and his team to anyone who needs help in getting rid of old furniture. They are also very reasonably inexpensive. Thank you Tony for all your help and patience! I don't know what I would have done without you.
Ann-Marie Adams
18/02/16

I called at 8.30 in the morning needing a quick part-house clearance and somehow Tony managed to fit us in for 1.30. Efficient, professional, personal, and way beyond what you would expect. We received very good advice on selling the remaining furniture and they even removed and replaced the front door! Excellent!
Clive, Seer Green
January 30th 2016

Losing a parent is really traumatic, but then having to clear and sell their house makes it ten times worse and even more so when the new owners ask to bring forward, an already tight, completion date. This is what happened to my Sister Tina and I. We contacted Tony at TJ Clearance & Removals. Tony and his team arrived early and cleared through the house in a record time. We went for Tony as we needed, not only to have the house cleared, but also to have some of my Mother's furniture taken to our houses. Unfortunately, as I was so upset by the whole process there was so much I had forgotten either to tell Tony to take or items that I just didn't know needed moving in the clearance of a house. If it hadn't been for Tony, I would have left stuff that should have been taken and would have been hit with a large bill from the new owners.
There was never a problem with anything. Tony and his team are obviously what I call 'Old School'. There are extremely friendly, and checked to ensure that everything went to the right place. What made things particularly upsetting was that where people had been in to see the house the carpets looked rather dirty. This was stressful as my Mother was so clean and tidy, but Tony went the extra mile and after they had finished he vacuumed the whole house leaving it looking as it was before the sale. His last words to me were that my Mum would have been proud of how good the place looked – and he was right!
I cannot recommend Tony enough. This is a family firm that he is so proud of and it shows. He is someone that goes the extra mile and can and does relate to his customers.
Kelvin Launchbury
January 29th 2016

I have been very impressed by the professionalism of TJ Removals and clearance. My phone call was answered promptly and suitable day and time set, they arrived in good time with the correct number of men and the right equipment to move a very heavy piano quickly and efficiently. I would definitely use them again
R Bolton ( Aylesbury)
January 9th 2016

TJ Clearance delivered a highly professional service from start to finish. The team were extremely efficient, the speed in which they cleared the house was amazing. Tony discussed everything with me to ensure that I was satisfied with the job. I would highly recommend them to anyone wanting a house clearance.
Jan Wilkinson
November 15th 2015

We were seriously impressed with TJ Clearance. The team was very efficient and hardworking and I would recommend them without hesitation if you are looking for a house clearance or removal company. They are good! We were quite simply amazed at the speed at which Tony worked. He knew we had a long journey ahead of us and was determined we would be able to travel in good time. Thank you!
Annette Kershaw. Quainton
November 12th 2015

From the moment I picked up the phone and called TJ Clearance & Removals to the moment I shook Tony's hand to say thank you for the job they had done, I received a service that was professional and very efficient. The whole team were friendly, informative and extreme polite. The clearance was dealt with sympathetically and the house was left in a condition that meant that 3 days later it was sold. A big thanks to Tony and his team.
Martin Wilson
5th November 2015

Not all house clearance companies work to proper standards but TJ is one that does. Their service is thoroughly professional and gave me confidence I could simply leave them the house keys to get on with the job. They're evidently a well-managed outfit and I'd have no hesitation in using them again.
NW, Chalfont St Giles
5th November 2015

Thank you so much for such a professional service. The move was made so much easier as a result of your input. The icing on the cake was the amazing clean that was also done by your company resulting in me being able to get my full deposit back I cannot recommend you highly enough
Cathy
28th October 2015

Major downsizing; had to get rid of what couldn't go anywhere else. I booked Tony and his team on the basis of the testimonials and now I am writing one. It was a job very well done and of course I recommend TJ Clearance.
Graham FB
22nd October 2015

Excellent service can highly recommend the company, polite and punctual and emailed pictures to us when the job was finished
Robert J Marvier dip PFS
20th October 2015

Clearance of Bungalow & Loft
This was the second visit by Tony & the team to the property. Having previously cleared the outbuildings this time was for the contents of the bungalow, including the loft. As before, the work was carried out promptly, cheerfully and with the utmost patience and consideration. I thoroughly recommend T J Clearance.
Mr & Mrs Melton
19th October 2015

Brilliant service and help during a very stressful time. I can't rate Tony and the team highly enough. They turned what had been a rather traumatic move into a pleasure! They collected in the morning and delivered promptly as soon as the keys to our new property were available. They were punctual, friendly, hard-working, really helpful, considerate (especially with two very small children running around, exceptional standards and placed items in rooms sensibly so that little had to be moved afterwards. I would have no hesitation in recommending TJ Clearance & Removals to anyone, they are an efficient and great company. Go ahead and use them you will not regret it.
From Michael and Corienne Burns
12th October 2015

Thanks for making my mums move painfree.
Very good service
Many thanks
Sue Lawrence
2nd October 2015

Thank you Tony and your team for clearing my parents house when they both went into care homes. You came in and cleared everything with great care, leaving everywhere spotless. You even arranged a wonderful plumber for a very stubborn washing machine connection. I will recommend you to anyone . Thank you.
Pauline
1st October 2015

Tony and his team do a Proper Job! They are on time and turn up with the required resources. We presented them with a major clearance of our late relative's house, garden, garage and loft. Where possible the contents were recycled or donated to charities and voluntary organisations. The work ethic of the team was first class and Tony took great pains to ensure we were satisfied with the outcome – he is pretty handy with the "Henry" vacuum cleaner! We were delighted with our choice of TJ Clearance and quite simply they are a Premier Division outfit." Thanks again,
Peter & Jacquie Shere
24th September 2015

Wow! What a fantastic service at a great price. I called Tony and asked about clearing my mums house and had no idea what to expect. tony talked me through it and booked me in within about a week. The team done an amazing job in a very short timeframe so that I can concentrate on the things that I need to do right now. I can't rate them highly enough. Thank you!
Shane Roadnight
8th September 2015

Had exactly the same experience as the previous person. Let down by a charity called BETEL who told me they would take everything we did not want to keep. Do not believe charities that promise to clear your home , they cherry pick. Tony arrived with two vans and four people , the four men were cheerful and polite, worked fast and efficiently. I did not have time to compare prices so cannot comment on the price, can certainly recommend the efficiency of the company.
Ruth McDonald. Gerrards Cross
September 2015

Excellent personal service Tony saved a difficult situation. Having had a charity in to take things out of my mother's flat, they would only take some of the items, so we were left wondering how to get rid of the rest, especially the double bed. With only 3 days to go before the buyer moved in, after a phone call to his office, he came out that same afternoon and literally cleared everything left in the flat. Wished we had found his company first. It would have saved a lot of stress. Many thanks to you Tony and your company.
Shirlh1986
08/07/15

We used Tony to move house and were really pleased that with two weeks notice he was free. Great price and Tony and his team worked incredibly hard to clear our house and get us set up in the new house on the same day. Nothing was broken or damaged and nothing was too much bother for them. We would not hesitate to recommend TJ Removals for moving house or indeed any type of clearance job. Thank you so much!
Mark and Natali Glanney
27/06/15

I telephoned TJ House Clearance following the death of my mother in April. From the beginning I found them to be the most helpful team. My mothers house was emptied in a quiet professional way with all the team being very helpful and sympathetic. The house was cleaned after being emptied and was left spotless. I can not recommend TJ House Clearance highly enough and they really helped me through a difficult time.
Michelle
18/05/15

John and Carole would like to thank you, your wife and the two team colleagues for doing such an excellent, professional and well-organised job with the clearance of John's mother's house. You certainly made our lives a lot easier and less stressful in this particularly personal situation which we were having to undertake. We very much appreciated the "extras" and leaving the house and garage so clean and tidy. We will certainly have no hesitation in recommending your company to our own personal contacts
John&Carole
17/05/15

Having used TJ Clearance a few years ago to clear a shed, I contacted them again to remove shed and household items not longer required before a house move. They do a great service, and you know everything is going to be disposed of correctly. They are professional in appearance and in manner, would use them again if needed.
Sanjon
10/04/15

After a stressful move and some decoration I was left with a garage half full of rubbish. One phone call, a visit the same day, a reasonable quote and it was gone. I thoroughly recommend this company for ease and efficiency and the knowledge that everything is being disposed of safely and environmentally friendly. Thanks, will use again....
Katie Maty
30/03/15

It was never going to easy to empty my late mother's house, but TJ Clearance did a wonderful job, with attention to detail and a customer facing service that made it a much easier task to deal with.
Gordon Dabinett
29/03/15

A great experience with TJ and the team. We booked late as the chain was looking shaky. TJ came and quoted, giving helpful tips on how best to pack our things and where to get the best boxes. On the day he arrived early and made the process work as smoothly as possible. He was clam and reassuring at a time when we were feeling anything but calm! Everything fitted in the vans (just!) and we were out on time. At the new place it transpired that the old owners had left a lot of stuff in the house. TJ and the team managed to get everything in the house, and even helped remove an old stairlift! He turned a negative into a positive, giving us tips on where best to dispose of the old stuff. We've never used removals firms before, being of the "rent a van and do it ourselves" clan. I can honestly say that TJ was well worth the money and i'd use him again without question
Elrikes
26/03/15

I contacted Tony at t j clearance to see if he could help clear my grandad and uncles house who had recently passed away. He made a very difficult time a lot easier to deal with as he and his fabulous team dealt with everything. From cutlery to garden pots! I honestly cannot recommend them enough. Once again thank u, and I hope to deal with u in the future!
Karen
20/03/15

We had the pleasure of having our father in laws house cleared and cleaned by TJ Clearance & Removals. They have done a first class job, on time and at a very reasonable price. I would recommend them to anyone and can't praise them enough. The cleaning left the house looking so good we could hardly believe it was the same place. When we first thought about having this work done we were full of dred. Thanks to TJ and his team all our worries were taken away.
MGC Marlow
20/03/15

Excellent job in a tricky location carried out with patience and professionalism. Would certainly recommend and we will be using them again when the time comes to clear the house.
Mr & Mrs Melton
09/03/15

My mother recently past away and I was left with the mammoth task of clearing her flat within a short time period. During her 3 years she had accrued a huge amount of clothing, furniture and general household items. I hired TJ House Clearance and was certainly not disappointed, the house was cleared in several hours and I must say their work attitude, quality of service and level of professionalism was exemplary. What Impressed me the most about TJ House Clearance was that a great deal of my mother's items were donated to charity as opposed to just being disposed of and considering the amount of work to be undertaken the price was exceptionally fair. I would highly recommend them and would hire them again if the need arose.
G Rob
05/03/15

Prompt, efficient, thorough.
Jay Joseph
28/02/15

I would highly recommend Tony and his team. They did everything possible to help us in our move and more. They are really polite and hard working'.
Annaja
16/02/15

We had to rehouse my father at short notice after a sudden illness. TJ Clearance and Removals were very accommodating and worked around our tight schedule - being totally flexible. The crew worked fast and professionally and the job was completed in only a few hours. I would not hesitate to recommend Tony and his team and would use them again in the future . They definitely took a lot of the worry off our shoulders !!
I Wilson
15/02/15

Very professional, friendly and efficient clearing my late mother's house. Would use again and highly recommend their services. Winslow
Jill Pownall
05/01/15

'I would highly recommend Tony and his team. They did everything possible to help us in our move and more. They are really polite and hard working'.
Annaleigh
15/02/15

Thanks very much to Tony and the team for very efficient clearance of my mother's flat a couple of weeks ago. All went well and quickly and I'm most grateful. Thoroughly recommended.
Jinny
07/12/14

"We instructed TJ Clearance and removals to clear a whole warehouse and associated offices of a division of JKL Solutions in Banbury that we were closing to bring in to our HQ in Hertford. From initial meetings, we were very impressed with their professionalism and knowledge of what was achievable through allocated budgets and timescales. The end result was fantastic and was also praised by the Landlords of the building for the minimal amount of disruption to all the other serviced office companies within the building. The finished product was accompanied by Photos and a breakdown of waste criteria given to satisfy our ISO14001 accreditation. A big thank you to Tony and his team. Would definitely recommend them if you are looking for a clearance company that you can trust."
N.Rice - JKL
29/01/15

Thank you Tony and team for your prompt service and rapid clearance. Thirty years of accumulation (and dust) cleared in less than a day. I Would certainly recommend your services to anyone who is struggling to clear a house. It is certainly a weight of our minds. Thank you once again
The Wises at Tiddington
03/02/15

We decided to use Tony for our garage and garden clearance after reading the glowing reviews on this website. We can only agree with them, it was a great choice. Tony and his team were prompt and worked hard to finish the job within the estimated time. They were courteous and tidied up everything afterwards
Pippa and James
12/02/15

"I can't recommend TJ Clearance & Removals highly enough. We employed their services when we recently moved home. The quality of service was excellent right from the moment of first contact to the moment they left our new house. The price was extremely competitive and beat the quotes we recieved from other companies in the area. The personal touch was appreciated during the initial quotation visit and the level of explanation about what was required and needed was excellent. On the day, Tony and his team were absolutely fantastic. They worked extremely quickly but also took great care over all our possessions and both the old and new house. They offered excellent advice about what to do when we arrived at the new property. Tony suggested that we put all the boxes into one room so that we could shut the door when we had had enough and enjoy the property without tripping over boxes. This was a simple bit of advice but it made a huge difference to our first few days. I will definitely use TJ Clearance & Removals in the future, but hopefully not for house removals as I don't want to move again for a while. They exceeded my expectatations and set a new bar for quality of service." Cheers
Paul House
23/01/2014

I contacted Tony to carry out a garden clearance for me. I say garden, but jungle would be more appropriate. Tony gave me a quote and we arranged a date for him to start work. Unfortunately due to the weather Tony and his team were unable to start on the agreed date but this wasn't a problem as Tony gave me plenty of notice and was frequently in contact with me to let me know what was happening. So the big day came and I was astonished how much work Tony and his team had done on the first day, going far beyond what I was expecting. The following day was completed with the same high standard of work. Even clearing leaves from my neighbours gardens. I am delighted with the job Tony and his team have done for me, hard working and professional, and I wouldn't hesitate to recommend TJ clearances in the future."
Mike Bartlett
26th November 2013

"My mother recently past away and I was left with the mammoth task of clearing her flat within a short time period. During her 3 years she had accrued a huge amount of clothing, furniture and general household items. I hired TJ House Clearance and was certainly not disappointed, the house was cleared in several hours and I must say their work attitude, quality of service and level of professionalism was exemplary. What Impressed me the most about TJ House Clearance was that a great deal of my mother's items were donated to charity as opposed to just being disposed of and considering the amount of work to be undertaken the price was exceptionally fair. I would highly recommend them and would hire them again if the need arose."
Dan Hornsby
11 Oct 2013

I can thoroughly recommend TJClearance as an efficient, reliable and friendly clearance company. We had to change the date for the clearance several times as our completion date changed almost daily with the run up to exchange. With all the pressures and stress of moving house this was one aspect they made 'hassle-free' especially as we were moving 200 miles. Thank you Tony for all your help and efficient service
Joy Sheppard
8th Oct 2013

We had to rehouse my father at short notice after a sudden illness. TJ Clearance and Removals were very accommodating and worked around our tight schedule - being totally flexible. The crew worked fast and professionally and the job was completed in only a few hours. I would not hesitate to recommend Tony and his team and would use them again in the future . They definitely took a lot of the worry off our shoulders !!

Mr. I. Wilson.
10th August 2013 Sent from Ian's iPad

We recently had a big clear out and called if the help of TJ Clearance. They provided a friendly, professional and fast service. We will definitely be calling them again in the future!.

Kori
Tue 14/05/2013

Thoroughly pleased with the efficiency from the initial quote through to completion and punctuality of my Uncles house clearance, considering the amount of work involved in the short period of time. It transformed the property ready for marketing.
Once again many thanks.

Mr .I. Lewis
27/04/2013

A big thank you to Tony and his wonderful team for their efficient and friendly service when clearing my mother's property. They worked so hard and even kept smiling when the loft turned out to be a much bigger job than expected. They provided an excellent service and I have no hesitation in giving a recommendation.

L. Invest 07/04/2013

"I contacted this company to clear a huge load of rubbish from my garage that had gotten wet in a flood. They arrived promptly and got to work straight away. The rubbish was loaded into the van in no time. They were polite, friendly and very efficient; they even swept the floor and rearranged the rest of my garage belongings so I didn't have to. I would strongly recommend this company and will use them again without hesitation! "

Christine Elgumati, Mon 18/03/2013

My mother has recently had to be moved into a nursing home and to help pay the fees we have had to sell her house. Most of her possessions were quite old and had no residual value and so we just removed the personal items that we wanted to keep. As the completion date was getting quite close we decided to use a house clearance company to do the rest and I had found 3 or 4 companies that I was going to call.

I started off by calling T J Clearance and Removals and because I was so impressed with the phone conversations I had with both Tony and his wife, I decided there was no need to call anybody else. Tony was very flexible, being able to work us into his very busy schedule, and the way they dealt with the whole process was professional, courteous, friendly and with a great deal of sensitivity bearing in the mind the circumstances.

In addition after clearing the house they also gave it a sorely needed clean which they did not charge any extra for. They also delivered a specially made armchair to my mother, in her nursing home, again at no additional cost.

I have no hesitation in recommending T J Clearance and Removals to anybody who needs house clearance or removal services and if you are looking for somebody who goes the extra mile, and then a bit more, then you need look no further than Tony and his family."

T.Squire, 27/02/13

Dear Tony, A brief note to thank you and your son for making yesterday's house clearance such an efficient and trouble-free experience. Having suffered a family bereavement so recently, we were anxious about seeing the house cleared, but you conducted the whole business with courtesy, sensitivity and professionalism. And all at a very reasonable price. We would definitely recommend TJ Clearance and Removals to anyone else needing a similar service."
With all best wishes,
Barry and Anne Thomas, Sat 23/02/2013

"To whom it may concern. Having been left the job of clearing my Mothers 5 bedroom house, I was at a bit of a loss of where to start. I found the contact details of TJ Clearance on the internet and phoned Tony who met me at the property to give me a quote. Having had a good look around, we agreed on a price and a convenient date. As you can imagine, the amount of "clutter" gathered over 45 years was substantial, but Tony and his team set about the job in a highly professional way, clearing not only the house, but shed, garage and loft. I found them to be professional, courteous and efficient and will definitely recommend their services to anyone that asks."

Regards

Chris Summers

"Thank you for your team's hard work on Monday and Tuesday. You have done a very thorough job on what was a very big undertaking - clearing a large 5 bed house that our elderly parents had been in for many years, and delivering what we wanted to keep to 2 different locations. You were very reliable and punctual and we really appreciated the fact that we could trust you to get on with job as we live at a distance. It was obvious that you have a lot of experience - thank you for all your advice and suggestions. Thank you also for all the 'extras' such as moving my daughters sofa and chair to my house, and carrying all my furniture upstairs for me here - that wasn't part of the deal, and it really helped me. Nothing was too much trouble. Our parents house has been left just as we wanted it for the new owners, and you hoovered up as well. You were recommended to us by some friends, and I would not hesitate to do the same."

Thanks again

Sue Harding,

Reading, Thu 31/01/2013

"Many thanks for a most professional and therefore, re-assuring collection service. We only called you this morning and asked for an ASAP job and you and your team arrived the same day, despite the snow storm! Old fashioned courtious service that you dont expect these days. We will have no hesitation in recommending your services to our friends and your card will be kept in a safe place!"
Bob Field
Wed 23/01/2013

"I found TJ clearance by chance on the Internet. Their web site and testimonials convinced me to request an estimate. Having met Tony I was impressed by his manner and approach to this work. Having agreed a price which included a discount I knew that this is the right company to help remove my late mum and dads possessions from their bungalow. Tony and his support team went about their work efficiently and professionally. I was surprised when all was completed within 2 hours and to my requirements. I would not hesitate to recommend this company to future clients"
John Smith
On 10 Aug 2012, at 17:56,

"Thank you Tony, I must say I was very impressed with your team today and I will recommend your company to the group for future work."
Thanks again
Shelley

"Tony I just wanted to drop you a note to say thank you for the job that you did for me last Friday. I was slightly daunted about the prospect of moving all of my furniture into my new home - and at the same time putting other goods into storage, and disposing of the rest of my junk (which was considerable!). However, you made this a pain-free process, with everything handled professionally, quickly and without fuss, and definitely surpassed my expectations. I really appreciated your experience and commitment to doing a good job. I wouldn't hesitate in contacting your company again for a similar job, or recommending you to a friend."
Many thanks
Malcolm Kemp
Thu 21/06/2012 11:34

"Thanks for clearing the flat so efficiently and without any fuss and to the timetable given. Thanks also for hoovering through. Good job well done."
Diana and Doug Foster
13.6.12

"I used TJ Clearance and Removals to clear the whole of a 2 bedroomed house which had been lived in for 60 years. My elderly mother had a huge amount of possessions which once we had taken a few personal items were expertly and quickly cleared by the team from TJ's. From the first contact by phone with this company they arrived to estimate and settle on a date very quickly with a good deal of guidance on how to go about the task. On the day they arrived at the time agreed and we left them to it. Returning at the time they had estimated we found everything removed from the house and sheds also garden waste which we hadn't asked them to take and would have had to sort ourselves had be taken away and nothing damaged or left in an unacceptable state. A really good and reasonably priced job had been done. The team were all very pleasant and professional and I would highly recommend the Firm."
Linda Isaacs

11/06/2012

"Dear Tony
I just want to thank you, your wife and the rest of your team for the superb job you did clearing and cleaning my late brother's bungalow this week. It was not an easy job as my brother was a 91 year old man, living on his own, who had been unable to clean or maintain the property for the last few years and who hoarded mountains of junk!
When we visited today we were amazed that you had managed to clear everything from the property, (including the contents of the garden shed!) and your wife was still very hard at work making a splendid job of cleaning everything from floor to ceiling. The property looked totally different so much larger and lighter with the filthy carpets and junk removed - and it all smelled so fresh and clean! The estate agent, who had seen the bungalow in its previous state was amazed at the difference and commented on what a good job you had done.
So thank you all , once again, for doing such a splendid job, and for making everything so easy for us, living as we do, quite a distance away. I would happily recommend you to anyone facing the difficult task of clearing a relative's house so please feel free to use this testimonial in your advertising material.
Yours, most thankfully,"
Marion and Gerald Higgs


"Many thanks Tony for the swift and professional job
Very much appreciated and I will recommend you to friends and colleagues if they need a similar service"
Simon

29/05/2012

"Many thanks Tony and Julie - good job"
Graham

16/05/2012

"Following a family bereavement - I contacted TJ Clearance to help with a house clearance. I found the quote reasonable and I appreciated the sensitive, efficient and courteous approach of TJ Clearance on the day of the clearance.
They then cleaned the house in preparation for its sales and did an amazing job, it is probably the cleanest the house has ever been! TJ clearance also proved to be reliable and communication with me throughout the process was excellent. I can highly recommend TJ Clearance and would certainly use their services in the future"
Julia Freeman

24/04/2012

"Thanks and appreciation are due to Tony and his team for making the best of a difficult and dirty clearance job which turned out to be less straightforward than expected. I found them to be helpful, diligent and trustworthy: I recommend them to other potential customers."
Bryan. (Harrow, Middx.)


"It was good to meet with you and your team yesterday, and I would like to thank you for the thoughtful and efficient way you dealt with the clearance. Many thanks, and kind regards."
M. Branning


"Removals from bagendon. Thank you for your most excellent service yesterday. Prompt efficient and polite, I am happy to recommend you to anyone enquiring."
Judy Hart

21/04/2012

"I moved recently with the help of TJ Clearance and Removals. Moving is a rather traumatic and testing experience and on reflection, it was a good decision to go with a locally based company. When I had underestimated the amount of boxes and bubble wrap that I required, Tony was able to supply me with the extra that I needed the following evening. Also, before I could begin packing, there were a number of heavier items that I needed to clear. Again, the fact that I was dealing with a locally based company meant that this could be arranged very quickly and easily.I imagine that many people believe that their move is uniquely complicated; mine certainly had its awkward aspects. At the point when I first contacted Tony, I did not know when I would move or where I was moving to and consequently I was probably a rather stressed client. However, Tony was great and I was assured that my move could be accommodated somehow. Just having that assurance was a great weight off my shoulders.
When the pieces of the jigsaw finally fell in to place, on the day of the move, all proceeded smoothly. The vans and movers arrived promptly and the house was quickly emptied. The house fixtures that I should have, but was unable to remove myself, were kindly dealt with by TJ Clearance and Removals. At the other end, large furniture items were unloaded and placed in various rooms and boxes were placed conveniently. In one particular room, I had decided that the initial layout of the heavy furniture was not the best solution. Tony and his team were happy to then rearrange the room for me. The team did not leave until I had confirmed that I was happy with the arrangement of all of the furniture.
In summary, I would have no hesitation whatsoever in recommending TJ Clearance and Removals. Leading up to my move, they were easily contactable and replies to telephone calls and queries were prompt and thorough. On the day of my move, the team were reliable, polite and respectful of my possessions."
Mrs Catherine Tye

Feb 2012

"Very efficient and professional service from Tony and his team. The club is looking so much better since the clearance and I would happily use TJ Clearance and Removals again and recommend them to others"
Lucy Walton

Operations Manager

"Many thanks for clearing my Mum's old house so efficiently. The cleaning was amazing everything spotless- has not been so clean in 50 years!
Thanks again. Best wishes"

David Browne

"I wanted to leave some feedback on your removals and cleaning services
We have used TJ Clearance to move home twice now and would definitely use them again. They offer a very efficient and fair priced service, moving everything quickly and safely!
We would highly recommend TJ to anyone needing removals!!
When moving out of a rental property, we used TJ Cleaning services. They did a fantastic job on the house and the company doing the check out for the letting agents was extremely complimentary on the cleanliness of the house. Thank you so much, you really took the pressure off and it was nice to spend a day sorting out the house we'd just moved to, rather than cleaning the one we'd just moved out of.
Mr & Mrs Crosby
Chinnor
p.s. We are giving your details to the letting agent as they really were impressed with the cleanliness of the house"

"Thanks very much for everything you have done and for giving me a good quote for the job. Much appreciated. I will send a check to you today.
Many thanks"
Bill

"Many thanks for today, and a million thanks for the three piece to Graham, he will be so made up - i have entered you on to our contact list, this will encable all colleagues within bucks to access you - many thanks again to you and the boys who moved the cooker.
kind regards"
C. Mitchelhill
Floating Support Worker

"I would like to thank you for doing a good job on Saturday moving my daughter's things to Milton Keynes. I will defiantly recommend your Company to my friends.
Thank you."
Sue Williams

"Thank you Tony for all your help yesterday it was much appreciated. I will pass your details onto our building surveyor for any future closures we have.
Best regards"
Margaret Knox
Admin Officer


"I would just like to say a big thank you to Tony and his wife for the fantastic job they did of moving us to our new home. It was all done with such efficiency; we would never have done it so quickly on our own.
They also did a brilliant cleaning job, which was a service I didn't expect and it saved me so much time, thank you both so much, I would recommend you to anyone.
Thanks again."
Daphne White

"Many thanks for your work in clearing my mother's house today. On both visits to the house you have arrived on time and been very helpful and courteous. The work was undertaken quickly, efficiently and with sensitivity. I am very grateful and would have no hesitation in recommending your company to others. Best wishes"
Jenni Mogridge


Great quote at short notice. Flexible when we didn't know if we would complete on the day or not (thankfully we did!!). Speedy but respectful to our belongings. Would recommend to anyone.
Richard and Angela
Aylesbury

One of our customers left us a really tasty thank you!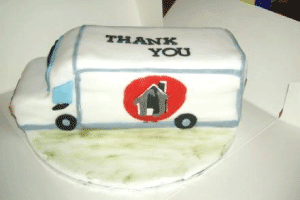 We needed to get things sorted at very short notice when clearing out a B&B and Tony and his team were first rate – answering the phone within three rings and coming round within the hour. I would definitely recommend them.
Mrs H Howard
Quainton.

A massive thank you to all at TJclearance. At times I thought the house was turning into the tardis as the clutter & junk seemed to be never ending but TJclearance managed to get the house & garden done in one day, they even took extra furniture away after I was let down by someone else. It was a great weight off of my mind & I would happily recommend them to anyone.
Thank you
Kim